King,
I think I get everything from you in the "blowdown" camo, my
preferred.
Some of these are 30 years old and still fully ops.
Many thanks for such a top quality.
Paul
Dear King,
See this photo of me clearing snow from our back stoop. Note the Coyote Fur Collar. I bought this jacket from you in 1987 when your office was in Jackson Hole WY.

My hunting buddy, Clifton Cooper (WWII Rainbow Division Combat Wounded Veteran), killed the coyote from his Deer Stand in Southwest Illinois in the early '90's. I had it tanned and a Gal from Michigan fabricated the collar which is affixed with Velcro.

My KOMS gear will go to my two (2) grandsons when my hunt days are finished! So, I view KOMS clothing as more than a Lifetime investment.

Jasper Fisher
Alton, IL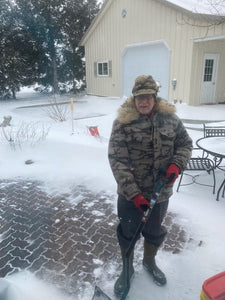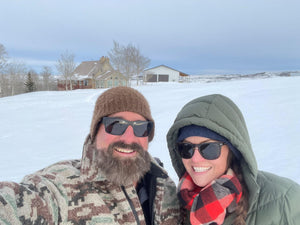 Hi King,
Just wanted to say that my Bowman is the best jacket I've ever owned! We were in Idaho in -20 wind chill and I was perfectly cozy. We actually acquired a new property in ID and it will be worn often…
Can't wait to use it on my hunt. My next purchase will probably be a River Rancher.
Thanks for making kick ass products!
Pete
Law enforcement agencies and Special teams please contact King of the Mountain if your department is buying new uniforms.
Hi there King --
My jacket has arrived and it fits perfectly -- I LOVE LOVE LOVE it!!!
I'm wearing it as I write this.  I just came back from doing some errands and it is around 20 degrees outside.  No problem for me though!  I was nice and warm in my awesome jacket.
Thanks so much for making it all happen.  I'm a very happy girl right now.  
Cheers,
Clare
Proud Member